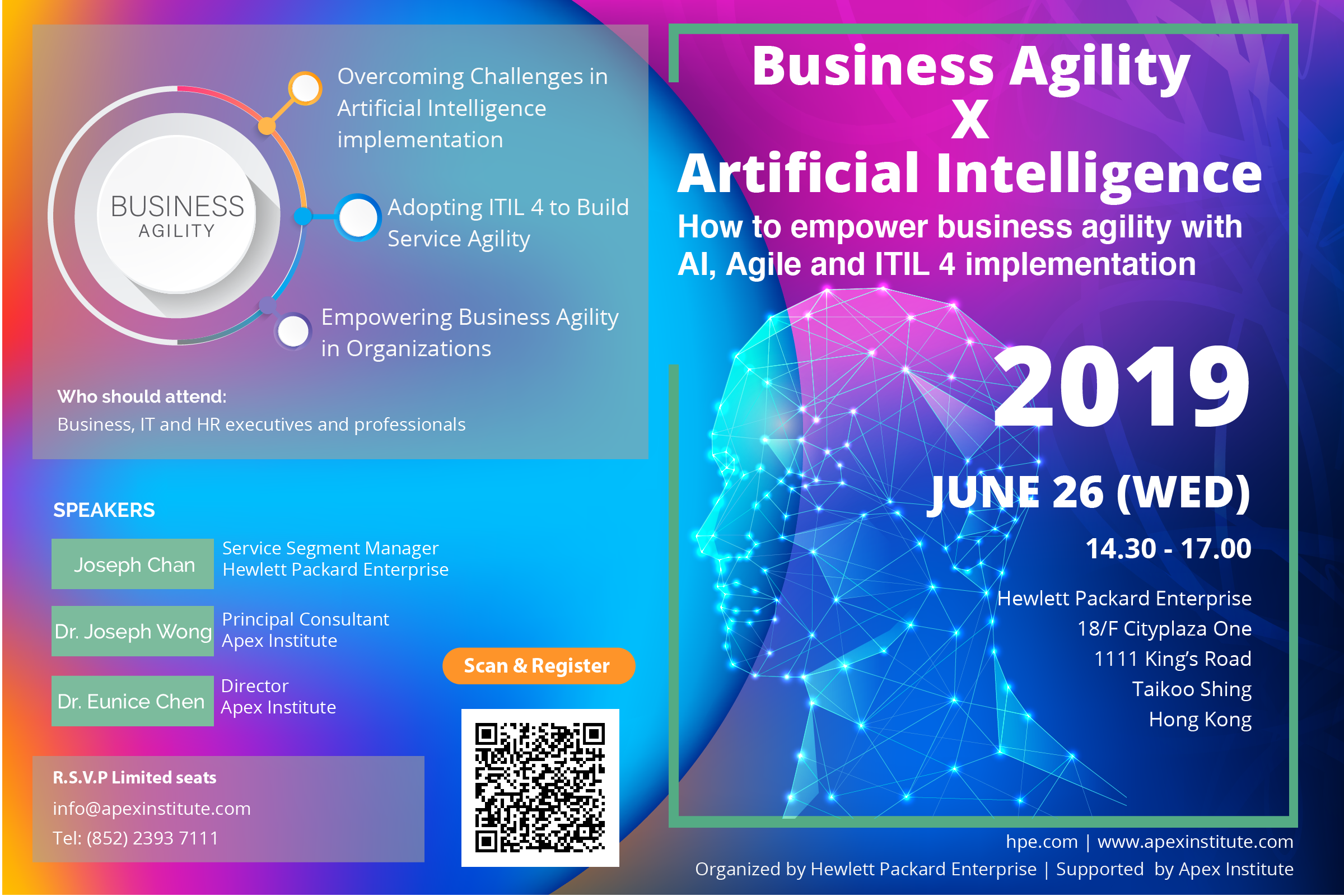 SEMINAR OUTLINE

Session 1- Overcoming Challenges in Artificial Intelligence Implementation
In World Economic Forum 2016, Artificial Intelligence was highlighted as a key enabler for the upcoming Fourth Industrial Revolution. Andrew Ng, former Baidu Chief Scientist and Stanford University Adjunct Professor, also said, "AI is the new electricity." Yet using AI in the organizations and managing AI projects carries unique challenges. This presentation talks about key AI concepts and how AI can be implemented in your organization to benefit the business.

Joseph Chan / Service Segment Manager / Hewlett Packard Enterprise

Session 2 - Adopting ITIL 4 to Build Service Agility
ITIL 4 was launched in February 2019. ITIL 4, as a widely adopted body of knowledge of IT Service Management, has evolved from previous versions by providing a practical and flexible basis to support organizations on their journey to the new world of digital transformation and service agility. ITIL 4 re-shapes much of the established service management practices in the wider context of customer experience; value streams and digital transformation; as well as embracing new ways of working, such as Lean, Agile, and DevOps. This session will introduce the update about ITIL 4 service value system and how agility is adopted in service management in the new era.

Dr. Joseph Wong / Principal Consultant / Apex Institute
Session 3 - Empowering Business Agility in Organizations
Revealed in a 2018 research by Forbes Insights, organizations that succeed at achieving great agility, the rewards are plentiful, including faster time to market (60%), faster innovation (59%), improved employee morale (57%), and improved financial results (55%). Agility has transformed from a software development methodology into a highly valuable management strategy across business domain recently. In this presentation, Dr. Chen will share the approach and strategy in empowering business agility in an organization.

Dr. Eunice Chen / Director / Apex Institute
WHAT YOU WILL LEARN
How Artificial Intelligence (AI) impact the business?

What is ITIL4 and latest update?

How ITIL4 incorporate Agility in service for your organisation?

How Business Agility help your organisation thrive in nowadays' turbulent times?

What are the approach and strategy to effectively empower Business Agility in your organisation?
WHO SHOULD ATTEND
Business, IT and HR executives and professionals
General Information
Date: 26 June 2019 (Wednesday)
Time: 14:30-17:00
Venue: HPE office, 18/F, Cityplaza One, 111 Kings Road, Taikoo Shing, Hong Kong
Medium: Cantonese with English terminology



R.S.V.P Limited Seat

Click here to REGISTER


Enquiry: (tel) 2393 7111 / (email) ivany@apexinstitute.com

About Speakers:




Joseph Chan / Service Segment Manager / Hewlett Packard Enterprise
BSc, MSc, MPhil and is now pursuing PhD at HKU
Mr. Joseph Chan has 20 years of IT working experience. In 2018 he made a presentation on machine learning at Tech Con, HPE's most prestigious R&D conference held annually in United States. He is also the developer of HPE worldwide education course on deep learning: HU0F0S Deep Learning Theory and Practice.

Dr Joseph Wong

/ Principal Consultant / Apex Institute
EdD, MSc, BSc(Eng), PMP, PMI-ACP, Certified ScrumMaster, ITIL Expert, DISC, MBTI


Dr. Joseph Wong is a management training and consulting expert and seasoned management practitioner with more than twenty-five years' experience in people development and service management. Joseph is the principal consultant of Apex Institute, he has delivered training to more than 10,000 professionals and managers. His areas of specialty include IT service management (ITIL), project management, agile management, innovation, strategic planning and DISC

Dr Eunice Chen / Director / Apex Institute
DBA, MBA, BSc, Dip in Marketing, ABNLP, Enneagram, MBTI, DISC
Dr. Eunice Chen is a practical strategist, consultant and trainer on change management and leadership. She has conducted thoughtful research on leadership development during her doctorate degree study. Together with her interest in psychology, personality analysis, IT background and rich management experience, she provides consultancy and leadership trainings for many organisations to excel.