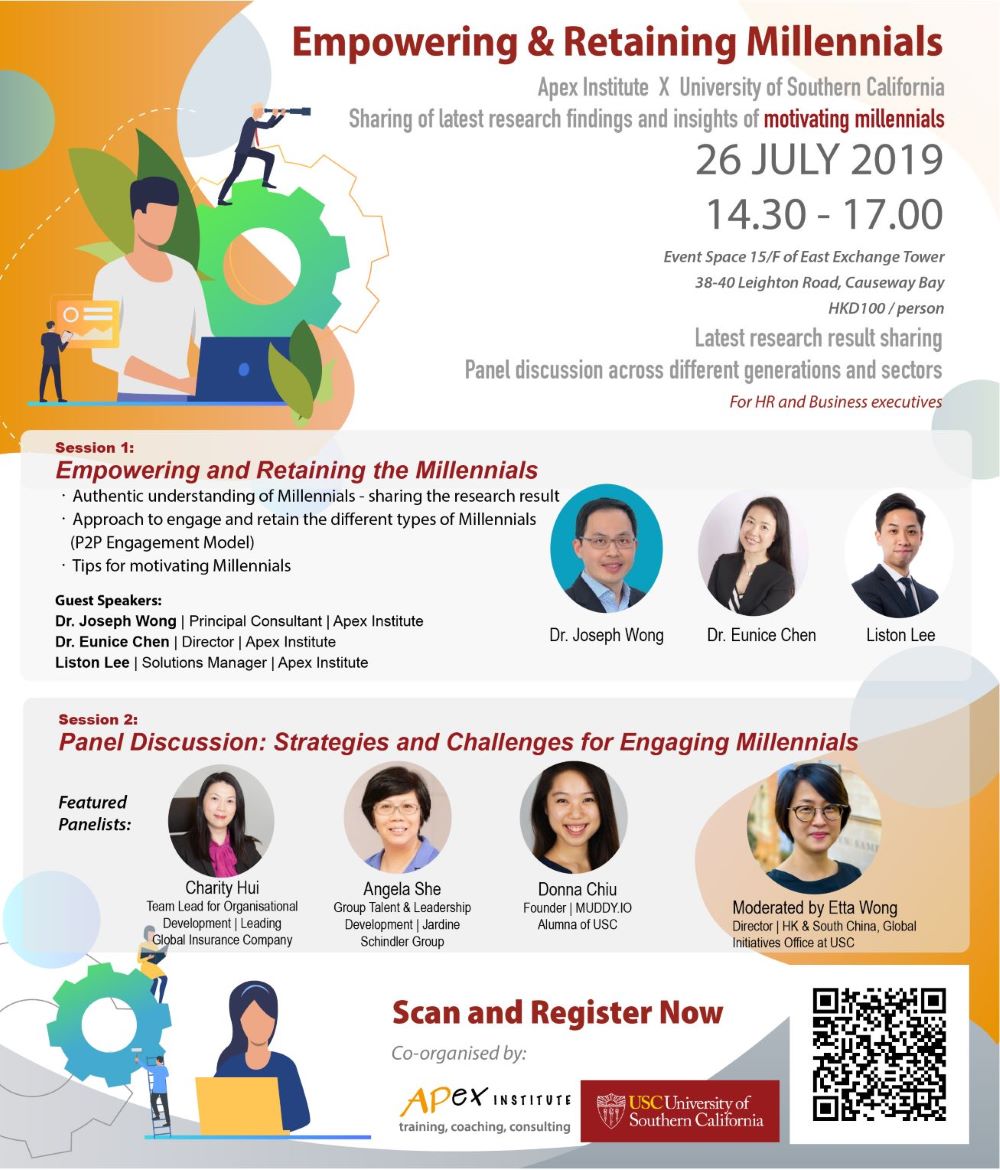 What you will learn
The generation differences in HK based with latest local research findings

Why the Millennials are different breed than the generations came before them


Approach

and

Tips

to effectively motivate, engage and retain the millennials with the use of our new P2P engagement model


Practical sharings on Strategies and Challenges for Engaging Millennials

via a panel discussion across the leaders from different sectors and generations

.


Who should attend
HR and Business Executives
General Information

Date: 26 July 2019 (Friday)
Time: 14:30 - 17:00
Venue: Event Space, 15/F of East Exchange Tower, 38-40 Leighton Road, Causeway Bay, Hong Kong
Medium: Cantonese with English terminaology
Fee: HKD 100 / person



Click here to register
+852 2393 7111 or ivany@apexinstitute.com

Our Speakers, Moderator and Panelists:
---

Dr. Joseph Wong
EdD, MSc, BSc(Eng), PMP, CSM, ITIL Expert, DISC, MBTI
A management training expert and seasoned management practitioner specialized in project management, team leadership, innovation, strategic planning and IT service management. He is renowned for his interactive training approach and the ability of integrating management best practices and making them simple and easy to apply.


Dr. Eunice Chen
Eunice is a practical strategist, consultant and trainer on change management and leadership. She has conducted thoughtful research on leadership development during her doctorate degree study. Together with her interest in psychology, personality analysis, IT background and rich management experience, she provides consultancy and leadership trainings for many organisations to excel.



Liston Lee
Liston is a local post-90s and he is working as a Solution Managers at Apex Institute Ltd. He works with a cross-section of HR and T&D professionals from various industries and see the changes of the organizations in terms of working culture and the people management practices driven by demographical shifts in the workplace. His mission is to help the organizations to bridge the generation gap to create a more cohesive working environment for people and realize how to connect and utilize the young generation to unleash their potentials



Etta Wong
Etta is the Director of the Hong Kong Global Initiatives Office at the University of Southern California. As director, she oversees the entire operation and development in Hong Kong and Southern China, include promoting USC to different commercial, government, and academic sectors, working closely with faculties for overseas academic projects, and building a strong alumni community. Etta received her Master degree at HKUST and Bachelor of Arts, Economics at University of Wisconsin Madison.



Charity Hui
Trained as an Organisational Psychologist, Charity Hui has extensive hands-on experience in HR consulting and people management. Charity is now the team lead for Organisational Development in a leading global insurance company. She is responsible for projects and initiatives that drive longer term organisational changes - including strategic workforce planning, organisational design, capability framework development, employee value propositions; and staff engagement. Charity received her Master in Science, Industrial and Organizational Psychology at The University of Auckland


Angela She
An HR professional with more than a decade of regional and global team management experience at several MNCs. Angela has her passion on talent and leadership development, focusing succession pipeline and internal career development/opportunities. She instills a sense of purpose and alignment of core values between the organization and the employees. Angela has a Master's degree in Human Resources and Training and currently pursuing her Associate Certified Coach credential with the International Coaching Federation.

Donna Chiu
Founder of MUDDY.IO (alumna of USC)
After graduating from USC in 2015, Donna joined LinkedIn Marketing Solutions in as the youngest employee in APAC. Her curiosity in technology and media continues to guide her career in DJI and now founding her own technology startup company MUDDY.IO that provides socially integrated booking system that helps small medium sized merchants reduce operations and increase customer retention.